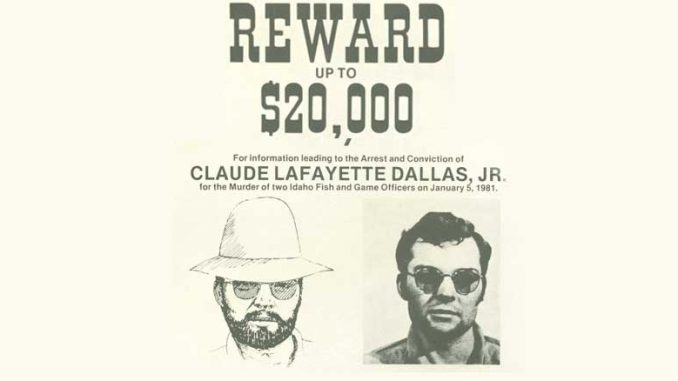 ---
July 15,2016| Daniel Gill
Owyhee County Sheriff Tim Nettleton, was instrumental in apprehending outlaw Claude Dallas, for the killings of two Idaho Fish and Game officers in his county. I considered it to be a great honor and privilege to sit-down and interview Sheriff Nettleton, this man was the real-deal a dying breed of law-men that helped to preserves the integrity of Western Culture.
Because of land-use conflicts and more governmental agencies participating in armed wilderness policing, Claude Dallas is Idaho's most infamous and hotly debated outlaw and/or hero depending on one's views. He was convicted of manslaughter in 1982 for the deaths of Conley Elms and Bill Pogue, two Idaho Department of Fish and Game officers. Claude Dallas was released from prison in February 2005 after serving 22 years of his 30 year sentence.
In the high desert of Bull Camp on the Nevada/Idaho border, Bill Pogue entered Claude's tent without consent, saw animal pelts and threaten to arrest Dallas for poaching in Idaho but Dallas said he got the pelts on Nevada side of the border. Pogue, drawing his weapon first, was fired upon by Claude with his .357 caliber revolver handgun, which he wore concealed. When Conley Elms exited the tent, Dallas shot Conley Elms also. Dallas was charged with two counts of first degree murder but the trial quickly shifted to the aggressive reputation of Officer Bill Pogue, that reputation helped sway the jury to change the conviction of Dallas to manslaughter.
It took authorities over 15 months to capture Claude Dallas at Winnemucca Nevada, April 1982 before he got to trial the first time. After he served 3 years, Claude Dallas escaped from prison on Easter Sunday 1986, and was on the run from almost a year before the FBI captured Dallas the second time that Dallas was on the run after he escaped Idaho State Prison.
According to a article March 23 2008 from the Idaho Statesman by Dan Popkey
Dallas gave authorities the slip for almost a year, fanning his reputation as a canny west folk hero.
The article goes on to state Their theory: Prison officials faked the fence-cutting to cover the fact Dallas outsmarted his keepers and simply walked out the front door with a group of visitors shortly before 8 p.m. on March 30, 1986. The morning after, prison Warden Arvon Arave showed off precisely cut triangles in the chain-link fences to reporters and photographers, contributing another iconic image to the Dallas repertoire. "Everybody said they knew he was going to escape," Arave told the Los Angeles Times. Correction Director Al Murphy also fed the mystique: "You give Claude Dallas 6 miles and you might as well give him the country." In a "United Press International article" it reads "Escapee Says He Feared Guards Would Kill Him." Convicted Killer Claude Dallas testified Thursday that he broke out of the Idaho State Prison last year because he feared guards were plotting to kill him and were using his picture for target practice.
Apparently Mr.Dallas did not do any extra time and kept his mouth shut about what really happen, showing more integrity and intelligence than the people who kept him imprisoned. This story has more twists and colorful characters than any world class fiction screenplay writer could imagine.
Dallas never granted a jailhouse interview, and no interviews has been conducted by any known media except possibly a man who claims to have spoken to Claude Dallas when he got out of prison. Its possible that the bereaved families and friends of Conley Elms and Bill Pogue could be a big factor that keeps Mr. Dallas living a incognito lifestyle.
"He doesn't want to talk to the media or make a big deal out of his release," said Kevin Kempf, the prison warden. "He just wants to go live his life." – USA Today.com posted 2/6/2005.
Oddly, Jack Wayne Chappell is the Chairman for Futurity Arts West Company and has a website futurityartswest.com to raise money to help keep the Claude Dallas story alive. Could it be coincidence that Claude Dallas used the name of "Jack Chappell" as an alias when he was on the run?
It seems Mr. Dallas wishes to put the ordeal in the past and be left alone. It was Claude Dallas's desire to live as a mountain man and escape societies scrutiny and live a more natural and free existence in the most remote and desolate part of the west. Was it a overzealous Game officer's in a  increasingly controlled society along with fate mixed with gossip that was in opposition to Dallas's desire for freedom? What compelled Fish & Game to drive all day and night to the wilderness of Bull Camp? Was it possible rumor and/or innuendo reporting the trappers whereabouts and intelligence to the Idaho Fish and Game for economic or political aspirations?  What compelled Fish and Game to expend so much time and expense to seek out Claude Dallas for possible code violations in the wilderness? Such extreme measures for infractions must of looked more like entrapment to the public and it unfortunately cost the lives of two officers.
Ironically, the BLM requires a special permit to visit or even take pictures or film at Bull Camp today. Armed incursions on public lands by government agencies is causing more curiosity about the mountain man who wished to be alone to live his own way. Claude Dallas was the first to use lethal armed resistance against agents carrying guns. It's the kind of story that can sell airtime and News Papers and also questions the viability of our own natural freedoms as human beings.
Perhaps, the only person who can explain the freedom and adventure, or perhaps the shame for the unnecessary killings along with chastisement as an outcast while on the run, would be of Claude Dallas himself; telling us his own story? I believe Mr. Dallas knows that it would be difficult to tell his version of the incident that triggered a bobcat reaction response lasting a fraction of a second over 36 years ago. To reach the truth Dallas himself would have to overcome the victims family emotions, media-filtering, sensationalism and false conclusions before the truth fades into a folktale mystery or worse yet a story that falls on ears of a younger apathetic generation. Once a story is told it is only human nature to fill in the blanks according to their own fanciful perception.  Pontius Pilot asked Christ the question "what is the TRUTH?" but he did not wait for His answer; as Pilot addressed the Pharisees.
Claude Dallas News. Find breaking news, commentary, and archival information about Claude Dallas From The latimes
---
His friends say Claude Lafayette Dallas Jr. was born 150 years too late for the life he wanted to lead. If you saw him ride and rope and shoot on the high desert ranches of Oregon and Nevada, you might think so, too. But it isn't that simple.
---
Thirty years ago this week, a trapper named Claude Dallas gunned down two Idaho Department of Fish and Game wardens trying to arrest him for poaching in Owyhee County. After felling them with a .357 Magnum, he shot each in the head with a .22-caliber rifle.
---
It is an Idaho legend: Infamous outlaw Claude Dallas escaped from prison on Easter Sunday 1986, cutting two fences and vanishing into the desert. Dallas fled into the same sagebrush landscape where he had disappeared in 1981 after killing two Idaho Fish & Game officers.
---
In the early 20th century, Frederick Jackson Turner argued that interactions on the frontier formed American characteristics of rugged individualism, democracy, aggression and innovation. The "New" Western historians of the late 1970s attempted to debunk this theory, revealing the racial and ethnic diversity of the West, reminding us of the role of the environment and documenting how settlers and later corporations conquered land wrested away from Native Americans.
---
Claude Dallas will walk out of prison Sunday into a different world. The infamous trapper/poacher who killed two Idaho Fish and Game officers in 1981 will find the American West is not such a hospitable place for a man who wants to live off the land. Open spaces are less open.
---
RIVERSIDE, Calif., March 8- Claude Dallas, a self-styled mountain man who escaped last year from the Idaho State Penitentiary where he was imprisoned for killing two state Fish and Game wardens, was captured today, the authorities said.
---